Our Services

At Voorthuis Opticians, our goal is to provide you with much more than a one-time solution. We are committed to a long-term relationship with you, so we put your eyewear needs, comfort and eye health first. We want you to look good and feel good about your glasses, sunglasses or contact lenses.
Our selection of unique frame designs and materials includes cutting-edge designers, high-tech materials and luxury fashion brands. Each Voorthuis location has a fully equipped examination room where an on-site optometrist performs eye examinations and contact lens fittings. We offer a wide range of lens types and coatings to suit your specific needs. Explore our services and contact us today.
---
Frames
Some people will wear one frame until the end of its life and some people treat their eyewear not only as a working necessity, but also as a fashion accessory. Eyeglass frames can change your look, making your appearance more youthful, more mature, more commanding or even more playful. Eyewear can be a conversation piece, or with a luxury frame such as Gold & Wood, can serve as a piece of jewelry. Whatever your needs, we are here to find the frames that fit you perfectly.

Frame fitting and adjustments take patience and skill. We offer a vast inventory to choose from, and the opticians to guide you to the style and fit that is right for you.
Fashion Forward Frames
When it comes to statement making, it is hard to top Alain Mikli, Theo, Nao Ned, and Lafont - some of our funky, fashion forward lines.
Alain Mikli frames have unique colors and shapes that you will not find in any other line. Considered to be some of the strongest frames on the market, every Mikli frame model is hand-crafted in Alain Mikli's Paris studio, truly making each frame a work of art, for the people who want that dramatic look. Theo also speaks for itself. If you want to be a little eccentric and playful, Theo is your frame. Each Theo frame has a personality of its own and radiates the spirit of its family-owned company headquartered in Antwerp, Belgium.
Beusoliel and Lafont are two French lines that offer softer looks, with classic styles yet still give the wearer a bit of an edge. Beausoliel are made from three-year old aged Zyl, an acetate material made from natural fibers at the Mazzucchelli factory Italy. The frames are hand-assembled in Frederic Beausoliel's factory in France.
When it comes to US designed frames – Robert Marc is one of our most popular lines. Based in New York City, designer Robert Marc is known for frames with subtle shades of browns, blacks, or vibrant colored tortoises on the front, with differing colors on the back. Robert is always surprising us with new colors, but one thing remains a constant - his signature hinge consisting of inlaid metal with chrome edges and a chrome dot.
For women who want a little bling and love name brands, we offer Tom Ford and Christian Dior. Tom Ford is a powerhouse in the fashion industry, and their frames radiate elegance and comfort. Christian Dior is a more mature frame with some dazzle on the side.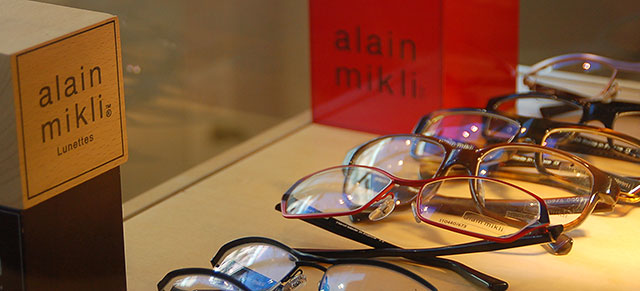 Unique Frame Designs and Materials
We offer some of the newest concepts in frame design to include screwless, rimless and titanium frames.
Straight out of the heart of Berlin, Mykita forgoes the use of screws and offers a stunning example of what happens when you combine German ingenuity and modern artistry. Made from stainless steel, Mykita frames are extremely lightweight and exceedingly comfortable.
Rimless frames are extremely popular and we carry a wide array of styles from which to choose. From casual to more luxurious, our rimless frame selection includes 2.5 Eyephorics, Silhouette, Lunor, Gold & Wood, and Lindberg. With the majority of our rimless frames, you have the freedom to create a frame truly unique to you by choosing the hardware and lens shape of your liking.
2.5 Eyephorics are some of the most comfortable frames on the market, made from high-tech polymer materials, these frames are extremely lightweight yet durable. They are available in a variety of colors and color combinations to match your personal style. 2.5 frames are available with optional cable temples, which prevent the frame from sliding—great for the active person.
Silhouette and Lindberg are popular rimless frames that are titanium-based, adding strength and durability. In place of screws, these rimless lines utilize rubber sleeves inserted into each lens through drill holes, which prevents a lens from cracking and adds additional strength.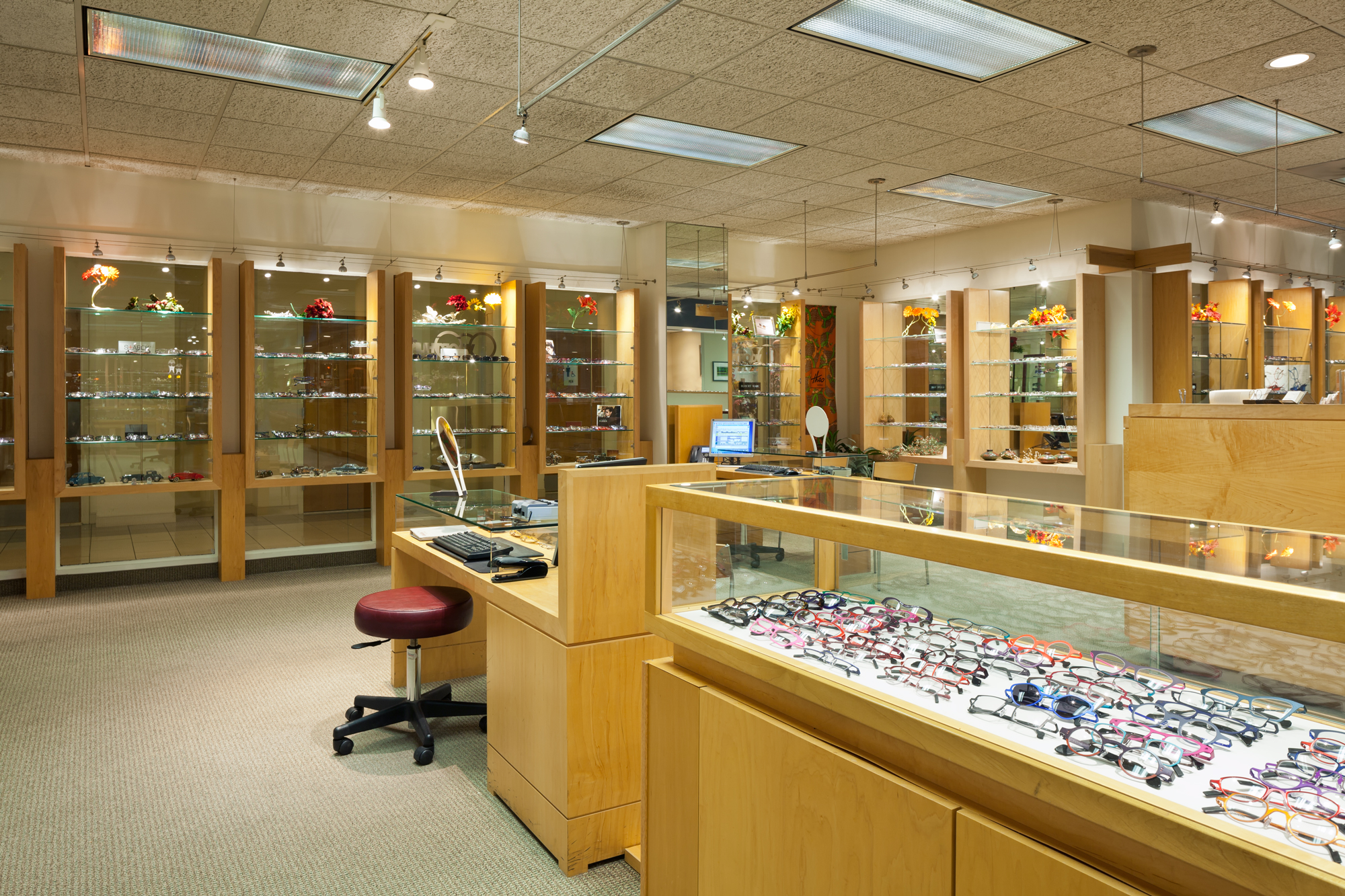 Our more luxurious rimless models offer style that stands out and quality worth paying for. Lunor frames offer distinctiveness because of the "W" bridge that is specifically shaped and yields no nose pads. Gold & Wood combine precious metal and wood with spring hinges to create a modern sophisticated frame.
More and more designers are turning to titanium to make frames that are not only strong and light, but hypoallergenic as well. Voorthuis is the exclusive provider of Zero G titanium frames in the Washington DC area. Designed in California and crafted in Japan – Zero G frames are made from surgical grade titanium, making them 40% lighter than stainless steel frames. With hinges designed without screws or soldering points, Zero G guarantees the spindles will never come loose or fall out.
Classic Frames
For those who want to look great, yet still convey subtlety with a more classic look, we've got you covered. Oliver Peoples is one of our largest lines for both sunglasses and optical frames, fitting a wide range of people with their classic, yet modern look and feel.
Another exceptional line that we have recently added to our inventory is Masunaga. Since 1905, Masunaga have been hand crafting stylish frames in the heart of Japan, offering vintage inspired elements with a fashion forward contemporary design. Delicate engraving on the bridge piece and temples are reminiscent of 1920's jewelry details.
We offer choice at Voorthuis. We take great pride when you allow us to help you choose a frame that not only meets your eye care needs, but looks great on you as well.
---
Lenses
Fashion Meets Function
When choosing a new pair of glasses, many tend to only think about the new frames they are purchasing and don't always consider whether the lenses will properly address their vision needs. At Voorthuis, we offer lenses at all different levels of performance – from the latest in digitally enhanced technological developments with tailor-made options for the best possible vision, to great value ranges suitable for all budgets and uses. Regardless of your budget, taking the time to choose the right lens is worth the time and money spent.
Not all lenses are made alike and our job is to help you choose a lens solution.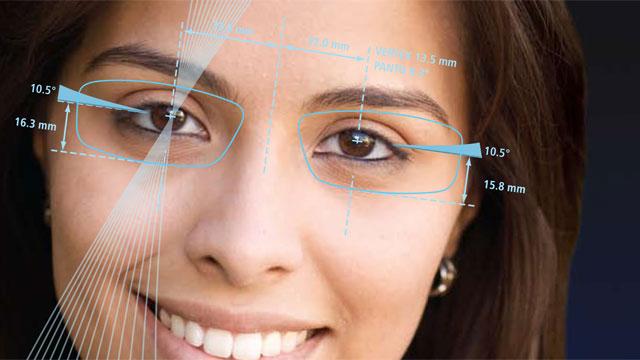 Lens Types
If your prescription is either for distance or near only, the type of lens you would require is called single vision. Single vision is used to describe lenses with one corrective power throughout the focal lenses are designed to provide both distance and reading in one lens and come in three different designs: bi-focal, tri-focal and progressive.
The bi-focal is a single vision lens with an area towards the bottom that is specifically added to create the correct reading power. Tri-focal lenses correct for three distances with two segments separating the distance vision from the intermediate and near vision. Both bi-focal and the tri-focal lenses separate the various vision segments with a distinctive line and while still in use today, are being replaced by progressives.
Progressive lenses are "no-line" multi-focal lenses that allow the user to see clearly at several different distances. This design has the distance portion of the prescription at the top and then it changes progressively into the intermediate in the middle and the reading at the bottom of the lens. The distance goes across the entire lens from one side to the other allowing for good peripheral acuity. Due to the progressive nature of the intermediate and near, this portion is similar to the bottom half of an hourglass.

We primarily offer Essilor and Zeiss progressive lenses, but also carry Shamir, Pentax, and Hoya Vision.
Lens Coatings
One of the most important lens considerations has to do with what kind of coating or treatment to use on your lenses. When it comes to lens treatments, we offer a wide variety of options to meet your needs.
Anti-Reflective (AR) Coating is a special treatment that eliminate white light build up on the front and back side surfaces of lenses, which allows light to pass through the lenses, making them much easier to see through and reducing eye strain. In addition, AR coating improves appearance by reducing glare and providing scratch resistance.
At Voorthuis, we offer premium AR coatings such as Crizal Saphhire, Crizal Avance and Alize, Zeiss Purecoat, and Carat Advantage.
Scratch Resistant Coating is applied to the lenses to reduce the risk of abrasion and scratching and improving durability. In previous years when people wore glass lenses, scratching was not as much of an issue, but these days, since the vast majority of the population now wear plastic lenses it is very important to have a scratch resistant coating whether or not you get AR.
Photochromic lenses are lenses that are virtually clear when worn indoors and become dark when exposed to ultra violet rays from the sun. These lenses work very well for people who are in and out of buildings and do not want to carry a second pair around or have to change frequently. We offer various Transition and Zeiss photochromic lens options, primarily in brown and gray.

---
Specialized Lenses
If you are working in an office setting and spending a lot of time reading or using a computer, we offer specialty lenses that provide more comfort for extended periods of reading and computing. Examples of some occupational lenses that we offer include Zeiss Room Distance (RD), Shamir Office, and Essilor Computer.
Contact Lenses
Voorthuis Opticians and Dr. Voorthuis, O.D. and Associates sell a variety of contact lenses at competitive prices. We offer free shipping and rebates on one-year supply orders of most disposable soft lenses, and efficient in-store delivery on smaller orders of contacts.
The optometrists at Voorthuis use your carefully determined eyeglass prescription together with any current or past contact lens experience you may have as a basis for your new contact lens prescription. We have experience fitting both soft and rigid gas permeable lenses in the following categories: spherical, toric (astigmatic), multifocal, multifocal toric, and monovision. We have hundreds of contact lens samples in our office so that we can choose the healthiest material and best modality (one day, two week, one month, or quarterly replacement) for you.
If your prescription or contact lens needs falls outside of our in-office trial stock, we can order you what you will need. We will work with you to sample different lenses and contact lens care regimens to get you the most functional and comfortable contact lens solution.
If you are new to contact lenses, Voorthuis optometrists will teach you how to insert, remove, and care for your contact lenses so that you feel 100% confident with the process before you leave the office with your new lenses.